Stick type mobile rechargeable battery – MPC-CS5000P
Compact and large capacity stick type
Genuine 5000mah
Description
Achieves a large capacity of 5,000 mAh while being a stick-type compact size that is easy to put in a bag
Uses a shape with a flat surface to prevent rolling on a desk, etc.
With fall prevention strap hole * 1
Features
Achieves a large capacity of 5,000 mAh while being a stick-type compact size that is easy to put in a bag
Despite its compact size, it has a large capacity of 5,000mAh, and quickly charge a smartphone twice * 1 it is possible to .
Adopted a shape with a flat surface
Adopts a shape with a flat surface to prevent rolling on a desk or the like.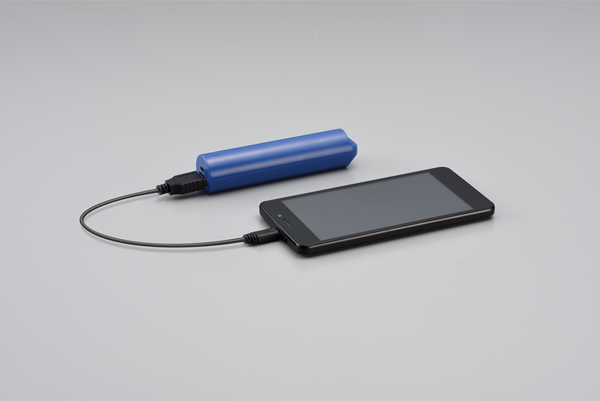 With fall prevention strap hole * 2
2 quick charges: Estimated based on our test results (equivalent to 2,000 mAh / when the power is off)
With strap hole: Do not wear it or hang it on the outside of the bag.
Specifications
Model number
MPC-CS5000P
External dimensions
Width 26 mm x height 115 mm x thickness 26 mm (excluding protrusions)
Input / output terminal
Input: USB Micro-B
Output: USB-A
Input voltage / current
DC5V/Max 2A
Output voltage / current
DC5V/max 2.4A
Body mass
About 105g
charging time
Battery charging time: Approximately 2 hours (0 → 80%), Approximately 3 hours (0 → 100%) * 1
However, when using a USB-AC adapter with an output of DC5V / 2A or higher
Same product
Charging cable (USB-A-MicroUSB approx. 20 cm) x 1 * 2 , instruction manual (with warranty)
Line up
Variety
capacity
Model number
Color
Mobile rechargeable battery
About 5000mAh
MPC-CS5000PWH
white
MPC-CS5000PPK
pink
MPC-CS5000PNY
Navy